Perfect Dessert for the 4th of July !
How was your 4th of July?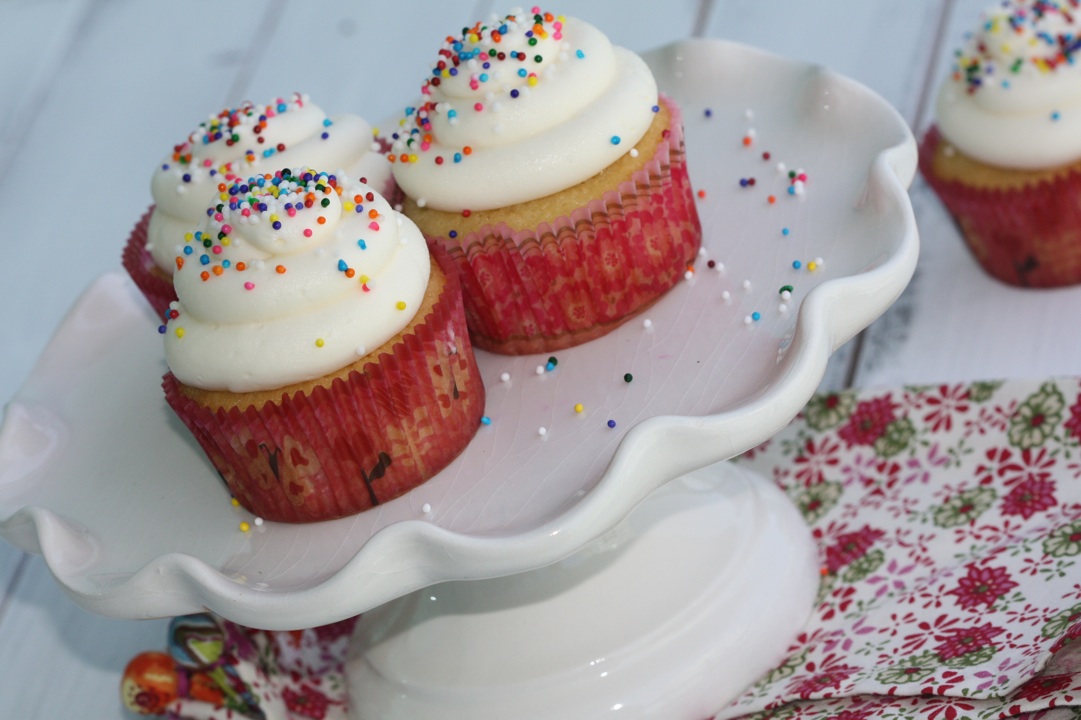 We have enjoyed a fabulous day with family and friends. While following the American tradition, we gather to watch the fireworks.
For those not born in this country , it is a bit hard to explain what the 4th of July means. It really sounds strange when I say happy 4th of July!
For us the Independence Day used to mean eating locro, empanadas and, of course, Dulce de Leche in any form and shape.
When we came to this country some years ago, watching the fireworks was like going to a football game, but playing from the bench. Honestly, it was like watching a Hollywood movie.
This year the film was not totally unknown. It is as if we had already watched the movie several times.
It's amazing, I often think,  how much sacrifice it took to be where we are. Simply put, we are first generation immigrants to America.
I think this sacrifice is truly worth it, if not  for the endless opportunities my daughter will have in this wonderful land.
To commemorate and honor this day, I could not help it and prepared a good all American dessert. These cupcakes are a classic in the American table. But if you're a Latin food lover, dont hesitate to add a tablespoon of dulce de leche underneath the vanilla frosting.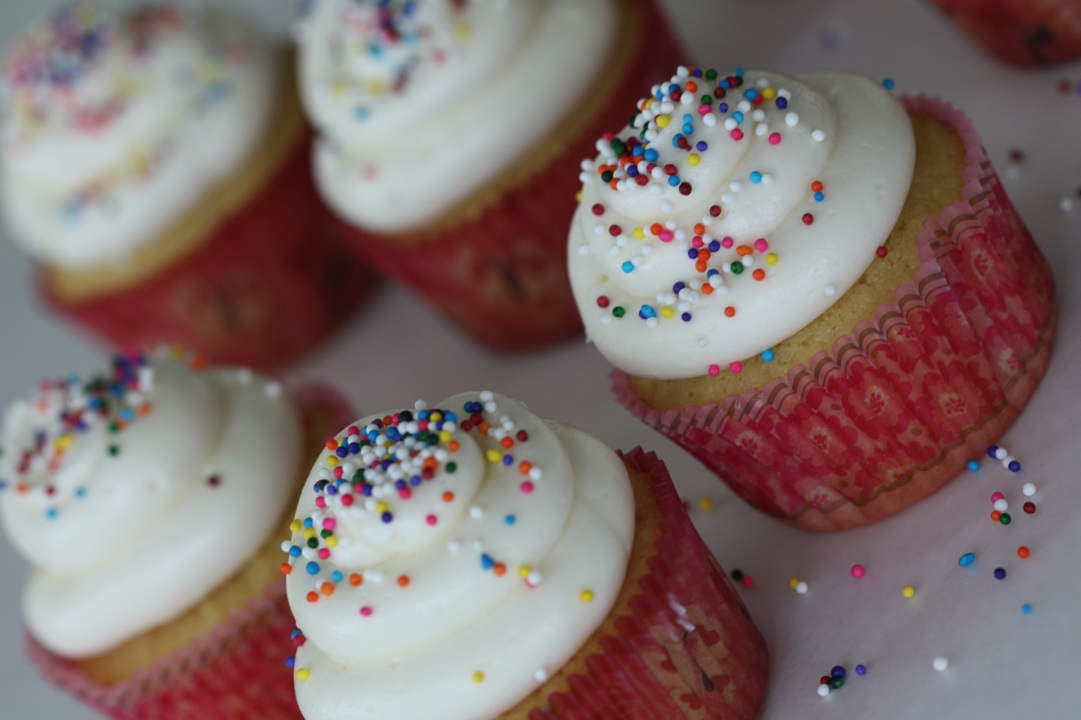 Ingredients
Cupcakes
250 g sugar
250 g butter
4 eggs
1 teaspoon vanilla
175 ml milk
260 g flour
¼ teaspoon salt
Icing
400 g butter
400 g powdered sugar
50 g cream
1 tablespoon vanilla extract
Dulce de leche (to taste)
Cupcakes procedure
Butter and flour cupcake molds
Cream the butter and sugar
Add the eggs, vanilla extract and milk
Add the flour and salt
Pour the preparation into the cupcake molds (Avoid adding too much batter)
Bake the cupcakes in pre-heated oven at 350 F for 10 to 15 minutes,  or until they return to their original state after touching the cupcake with a finger.
Icing procedure
Cream the butter and powdered sugar
Add the cream and vanilla extract
Insert a decorating tip in the pastry bag
Pour the icing in the pastry bag
Press out the air and seal the pastry bag
Pipe out over the cupcake
Enjoy! 
¿Cómo han pasado el día de la independencia?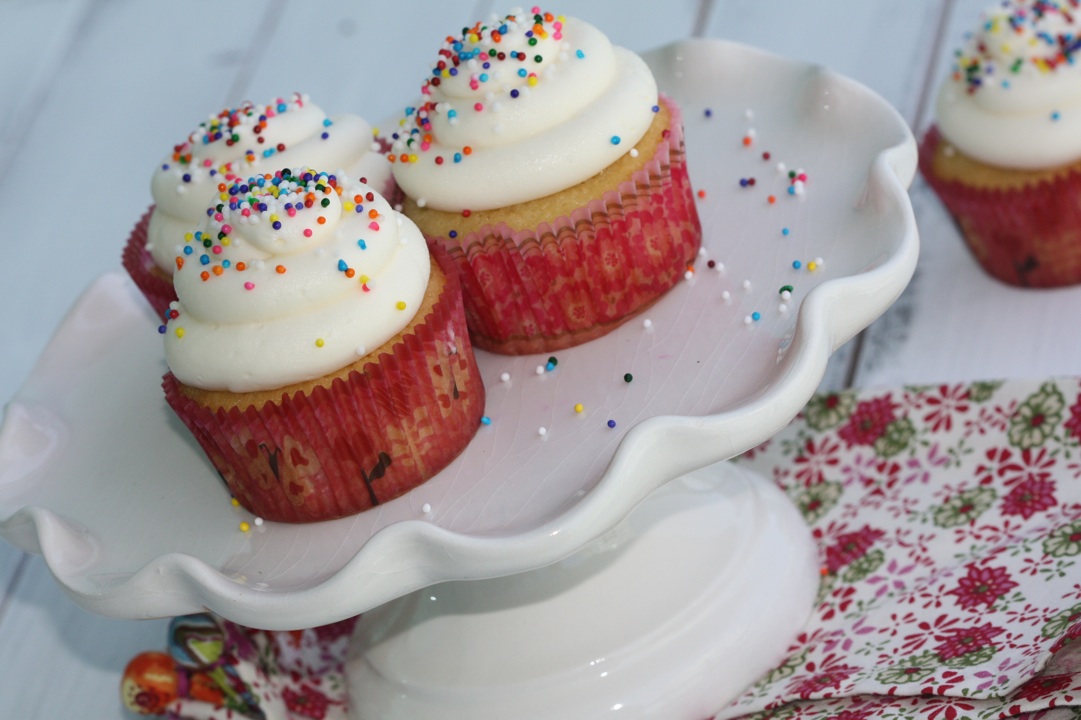 Nosotros hemos disfrutado de un fabuloso día en familia y con amigos. Sin dejar de seguir la tradición americana, nos reunimos para  ver los fuegos artificiales.
Para los que no nacimos en este país, es un poco difícil de explicar el significado del 4 de Julio.  Que raro aún me suena decir: Feliz día de la independencia!
Es que  para mi, en el día de la independencia se come locro, empanadas y, por supuesto, dulce de leche en cualquiera de sus formas.
Cuando emigramos America hace unos años, ver los fuegos artificiales era como ir a jugar un partido de fútbol, pero desde el banco de suplentes. Honestamente, era como estar viendo una película americana.
Este año la película no ha sido totalmente desconocida; es como si ya hubiéramos visto la película varias veces.
Es increíble, a veces pienso, cuanto sacrificios hemos hecho para poder estar aquí. Siendo que somos la primer generación que ha inmigrado a América.
Creo que este sacrificio sigue valiendo la pena por las infinitas oportunidades que puede tener mi hija en este maravilloso país.
Para conmemorar y honrar esta fecha, no podía dejar de preparar un postre bien americano. Estos cupcakes son un infaltable en la mesa Americana.  Pero si eres amante de la comida latina,  agregarle una cuchara de dulce de leche por debajo del icing de vainilla!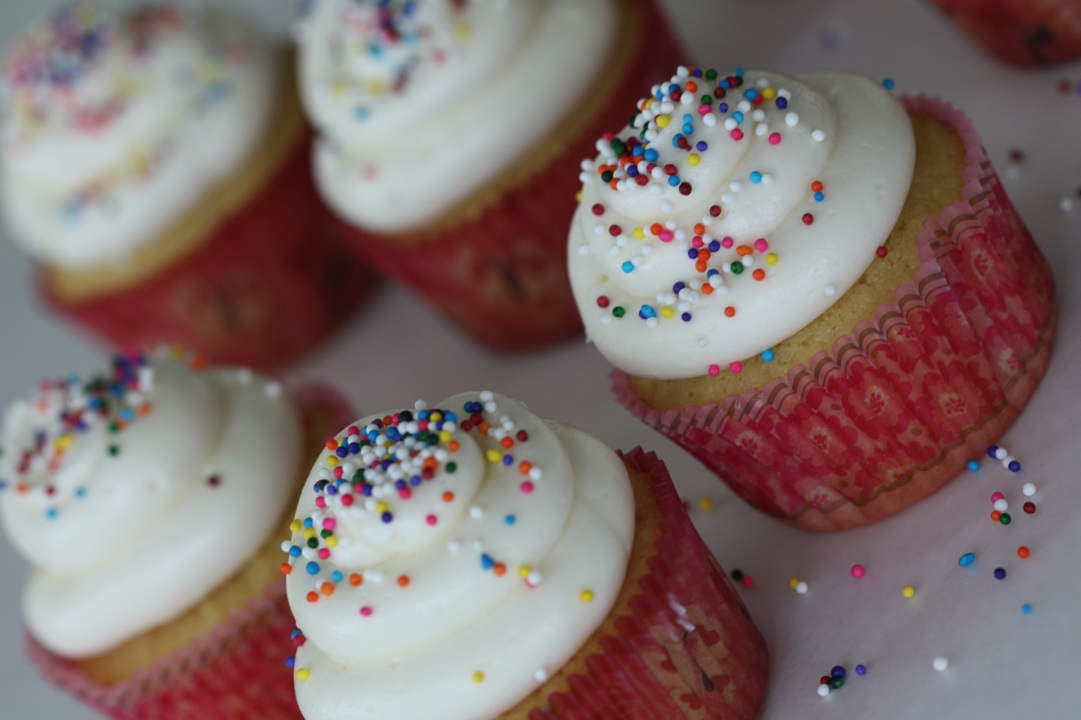 Ingredientes
Cupcakes
250 grs azúcar
250 grs manteca
4 huevos
1 cucharita de vanilla
175 ml leche
260 grs harina
¼ cucharita de sal 
Icing
400 grs manteca
400 grs azúcar impalpable
50 grs crema
1 cuchara sopera de extracto de vainilla
Dulce de leche (a gusto)
Procedimiento
Cupcakes
Enmanteca y enharina moldes de cupcakes o muffins
Bate la manteca y el azúcar
Agrega los huevos, el extracto de vainilla y la leche
Añade la sal y la harina
Incorpora la preparación en los moldes de cupcakes (sin agregar demasiado relleno)
Hornea a 350 F en un horno precalentado por 10 a 15 minutos, o hasta notar que la masa vuelve a su estado original cuando presionas con un dedo
Icing
Bate la manteca y el azúcar impalpable
Agrega la crema y el extracto de vainilla
Agrega un pico en la manga
Añade el icing en la manga
Aprieta y extrae el aire. Cierra luego la manga
Confecciona diseños sobre los cupcakes
Disfrútalo!