Pascualina!
The Pascualina pie or chard pie is simple to make, delicious and very healthy.
It is also the perfect cake to welcome the fall season. Some fruits and vegetables are harvested throughout the year but they become richer when produced locally and are available at the farmer's market.
This tart is typically argentinean. The italian community is one of the largest immigration group in the country. And this is therefore reflected in the customs and flavors of the cuisine.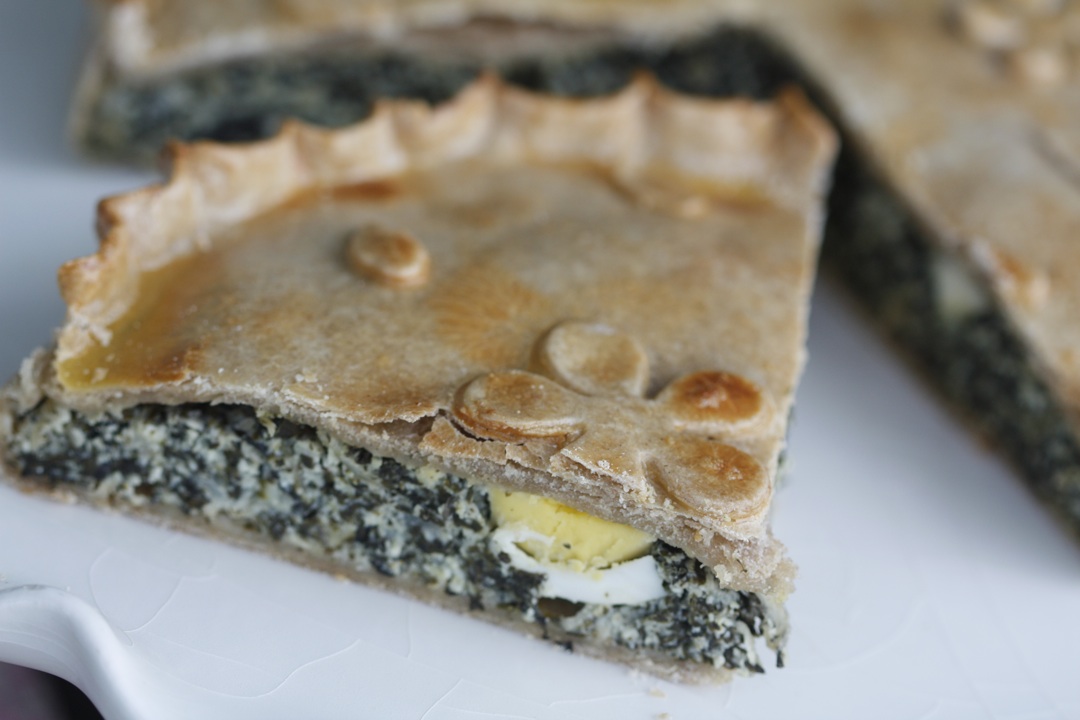 To understand the reason why the Pascualina is consumed in Argentina, I will tell you a bit about its origin.
The very first recipes can be traced back to Genoa and it was originally consumed during the Pascuas (Italian for Easter); hence Pascua-lina.  Unlike other pies, the
pascualina's surface is covered and its filling is typically not visualized.
In the original recipe, thirty three layers of dough were used during its preparation.  The number of layers symbolized the age of Christ, while the eggs used in the filling symbolized birth and the renewal of life.
For obvious reasons, nowadays very few people use prepare it this labor intensive way!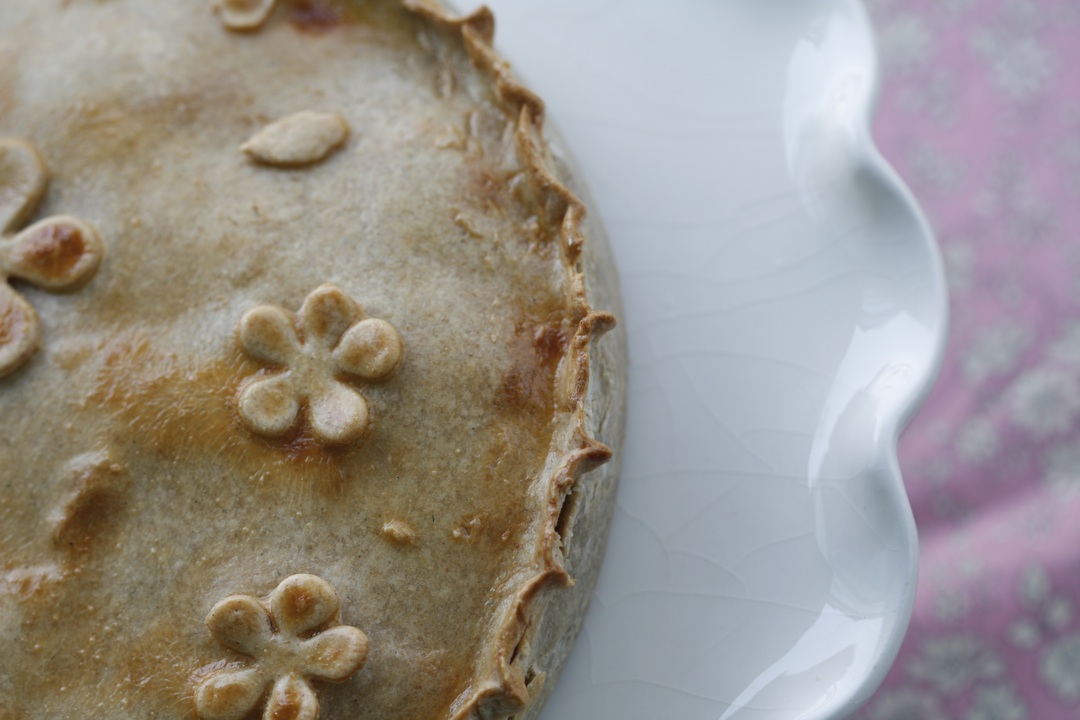 In my own version I utilize whole wheat flour to make it healthier and more nutritious. Although I've chosen chard for the filling, this can be easily interchanged for spinach or a mixture of both. Chard is very low in calories and fat. It is an excellent source of vitamins A, C, K, and B6. It is also rich in minerals like copper, calcium, sodium, potassium, iron, manganese and phosphorus.
This recipe is ideal when trying to introduce green vegetables at home, especially when you have young children (when it becomes hard to achieve that goal). The pascualina can be served as a main course in a light lunch or as an accompaniment to a entree.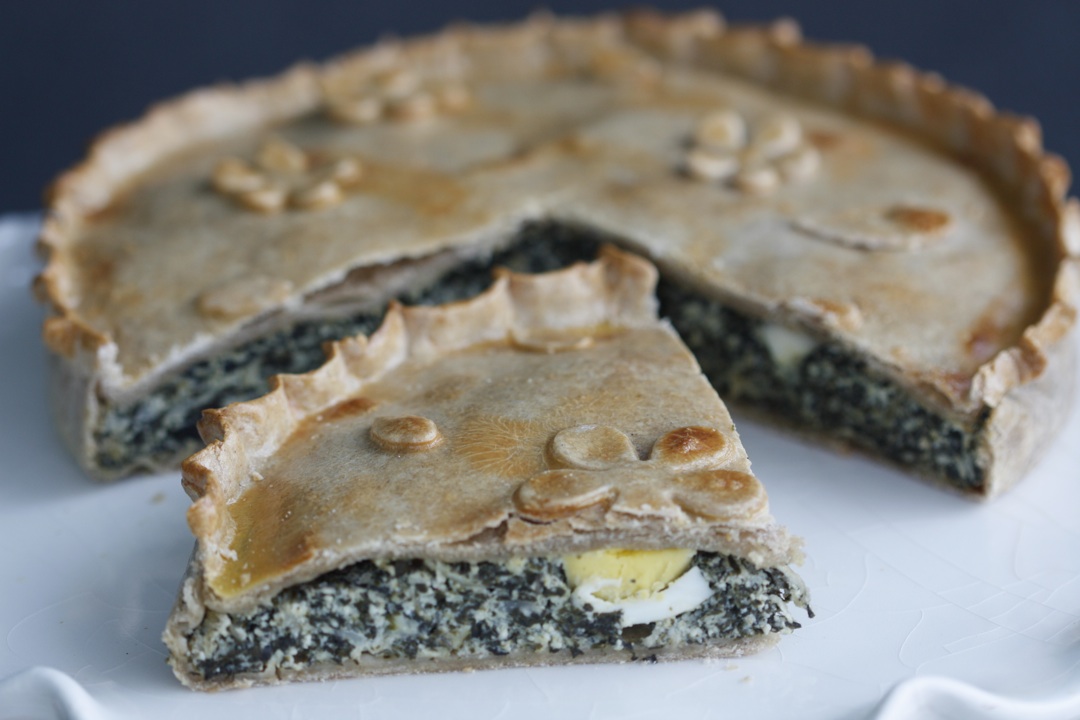 Ingredients
Dough
6.5 oz organic whole wheat flour
6.5 oz cake flour
1 teaspoon salt
2 tablespoons vegetable oil
2 tablespoons organic all-vegetable shortening (non-hydrogenated)
0.8 to 1 cup water
Filling
2 bunches swiss charm
9 oz light ricotta cheese
½ teaspoon corn starch
3 to 4 tablespoons parmesan cheese
2 eggs
Salt and fresh ground black pepper (to taste)
¼ teaspoon nutmeg, freshly grated
2 slices of provolone cheese
Procedure for the dough
Preheat oven to 350°F.
Add the flour mix and salt in a bowl
Make a well in the center
Stir in the vegetable oil and shortening with some water
Knead the dough until the it becomes uniform
Add the rest of the water slowly
Sprinkle flour on the work surface.
Make 2 balls with the dough and let them rest
Procedure for the filling
Chop the onion into small square pieces
Heat a tablespoon of olive oil in a skillet. Add the chopped onion.
Reduce the heat to medium and cook until the pieces are tender and translucent.
Wash the swiss charm and pinch off the leaves at the top of the stem. Discard the stems
Meanwhile bring water to broil and cook the swiss charm for 2 to 3 minutes
Add in the skillet the cooked swiss charm, the ricotta, the parmesan cheese, the provolone, corn starch, the salt, nutmeg, and pepper.
Stir and adjust the seasoning to taste.
Place the charm filling in a bowl and add one egg
Broil the other egg in a small pan
How to assemble the tart
Roll each ball with a rolling pin up to a height of 1/8 inches
Place the dough in an 8 inches mold
Place the Swiss chard filling and the cooked egg onto the dough
Moisten the edges of the dough with a little water and then place the top crust over the charm filling. Cut any excess of dough, bend the dough and seal around the edges with water (use your fingertips or a fork)
Make decorations on top of the pascualina with the leftover dough pieces
Brush the top of the pascualina with egg and bake at 350°F until is becomes lightly brown