Healthy Lentil Stew
Ah, being a new mom. The exhilarating and exhausting days and nights of parenthood! So much to do and so little time and yet… one thought keeps fighting it's way back into our minds: the weight. After becoming a mother, women (or at least me) often think about how quickly they can return to their original weight. But balancing family life and a diet can sometimes feel nearly impossible. Hence, this lentil stew, it's easy, hearty, fulfilling, and healthy.
The need to look good is inherent to all women. But let's face it, when there's no time to look at yourself in the mirror, there's definitely no time to head to the gym. The initial tiring months though joyous, are not made easier by jeans that are just too tight. And breastfeeding means diets are out of the question.
Enter this lentil stew. It's ideal for any mom craving a pleasant, healthy, and balanced meal and it's perfect for the entire family. It's also great to have in your repertoire as the days get cooler and we're looking to warm up from the inside out.
Time tip: don't worry if you were unable to soak the lentils overnight. Unlike other beans, lentils do not need to undergo this process!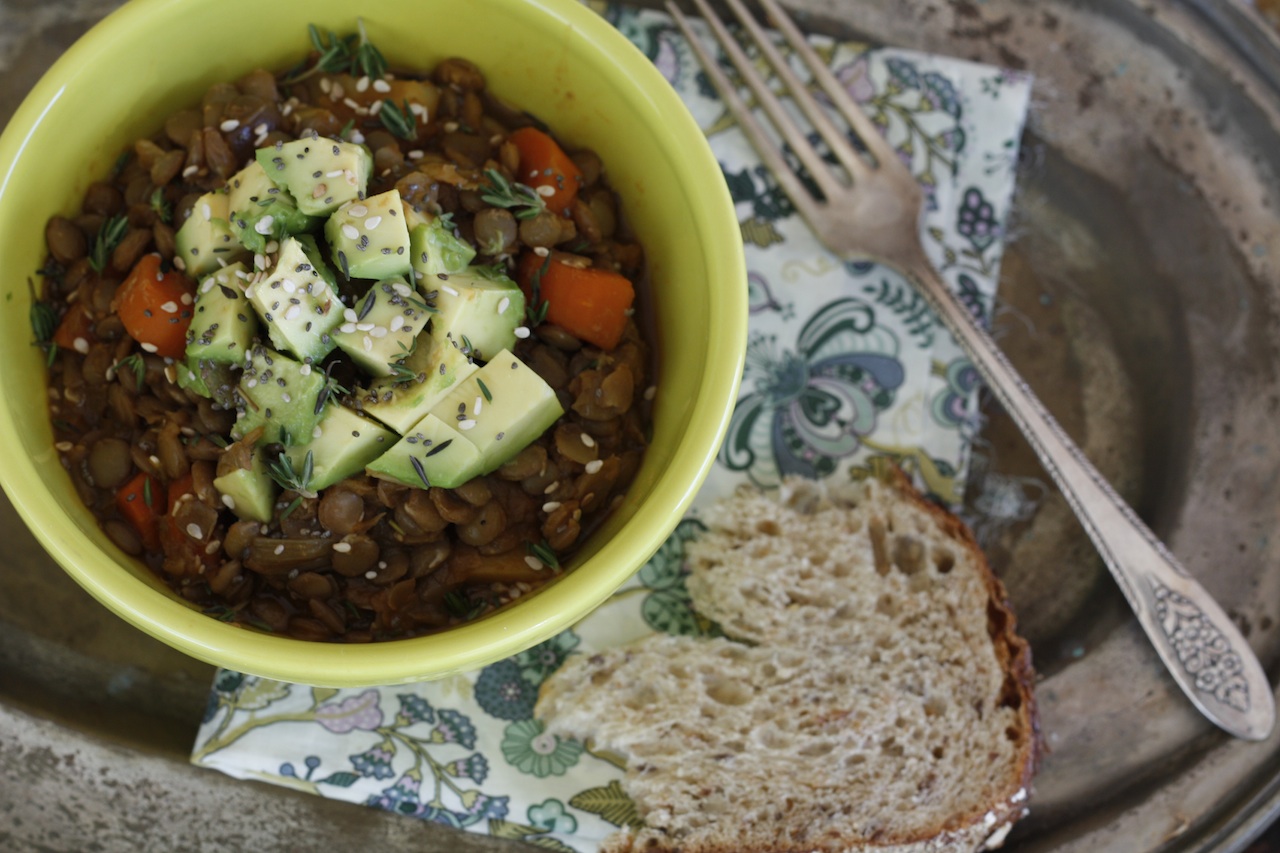 Ingredients
1 14-ounce package dry lentils
1 red onion, chopped
1carrot, peeled and cut into 1-inch pieces
1 small potato, cubed
1/2 leek, cut into 1-inch pieces
1/2 squash, cubed
3 cloves garlic, finely chopped
1/2 jalapeño, finely chopped
1 1/2 tablespoons mixed chopped fresh herbs (such as thyme and rosemary)
1 8-ounce can tomato sauce
* kosher salt and freshly ground black pepper
1 ripe avocado, diced, for garnish
Procedure
1) Place the lentils in a saucepan and cover with water. Bring to a boil and cook for 3 to 5 minutes. Drain.
2) Heat the oil in a pot over medium heat. Add the onion and cook, stirring occasionally, until lightly colored. Add the carrot, potato, leek, squash, garlic, jalapeno, and herbs. Continue to cook until the vegetables are lightly browned.
3) Add the stock, tomato sauce, and lentils. Season with salt and pepper.
4)Bring soup to a simmer. Cover and cook until lentils and vegetables are tender, about 1 hour.
5) Adjust seasoning with additional salt and pepper and garnish with diced avocado.