White Chocolate Strawberries Pudding (Budín de pan con chocolate blanco y fresas)
When it comes to February 14th,  there are 2 groups of women: Those who dislike Valentine's Day given its commercial imprint and those romantic women to the core who absolutely love this day. These women enjoy making gifts of everything from store's candy, homemade candy , flowers , balloons, cards and so much more . These women are imagining non-stop all sorts of heart-shaped gifts!
To those who for some reason are going through a moment of solitude, remember that this day is not a celebration for lovers. It is rather the day of love and, therefore,  you can (and should!)share this day with anyone else you love.
Here I bring an easy recipe of strawberries and white chocolate pudding so you can prepare it at home with zero stress. The preparation is so simple that you will have no excuses to prepare it . It can be mounted directly into cups or in individual pudding bowls (oven safe). You won't have to even worry about how to unmold the dessert.
Enjoy it !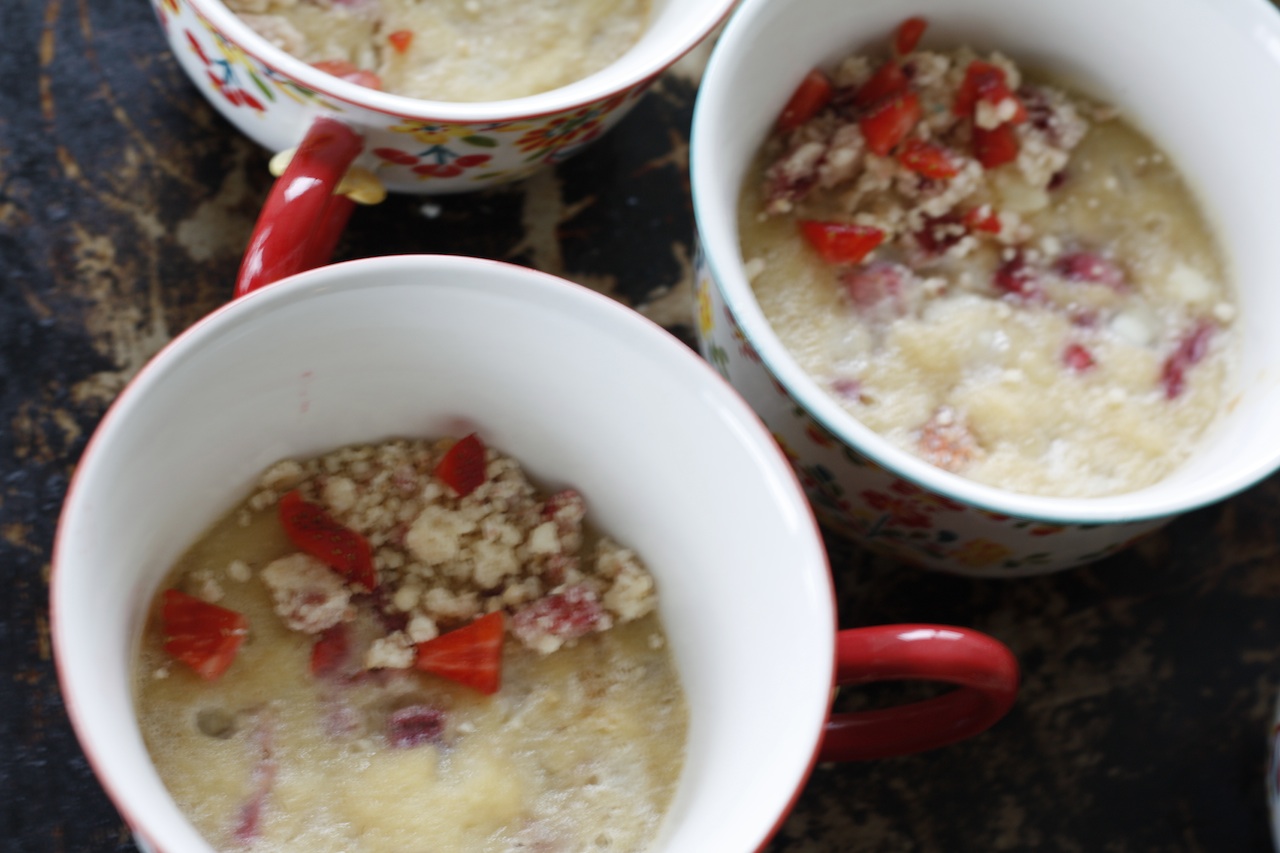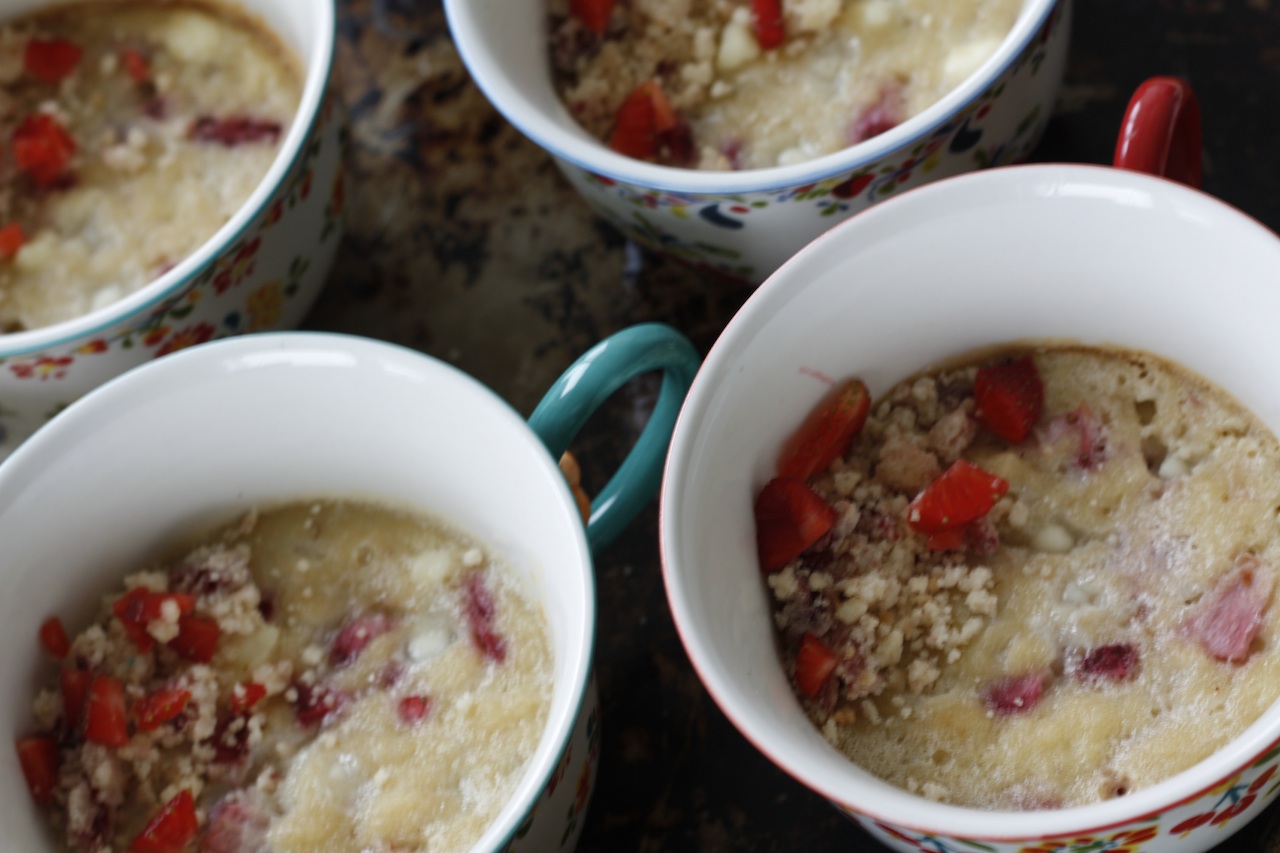 Ingredients :
2 cups white bread
3 egg whites
3 egg yolks
325 ml of whole milk
50 ml of heavy cream
25 g of cream cheese
125 grams of strawberries
100 grams of white chocolate
125 grams of white sugar
1 teaspoon vanilla extract
Decoration
35 g of butter
35 grams of white sugar
50 g flour
25 grams of Maria Iberia biscuits
3 or 4 strawberries
Pudding
1. Whisk the egg whites
2. Chop the white chocolate and strawberries
3. Place the breadcrumbs with milk , cream and cream cheese
4. Mix the sugar, egg yolks to form a cream
5. Add to item 4 vanilla essence and the milk
6. Add the chopped White chocolate and strawberries
7. Finally add the egg whites slowly
8. Place mixture into individual cups or ramekins
9. Put it in the oven at 350 ˚ F for 1 hour, or until the dessert takes consistency
10. Let cool and place in refrigerator
Decorating puddings
1. Chop the strawberries
2. Crush the remaining ingredients in food processor
3. Place the chopped strawberries and preparation of point 2 in the oven at a low temperature until it begins to brown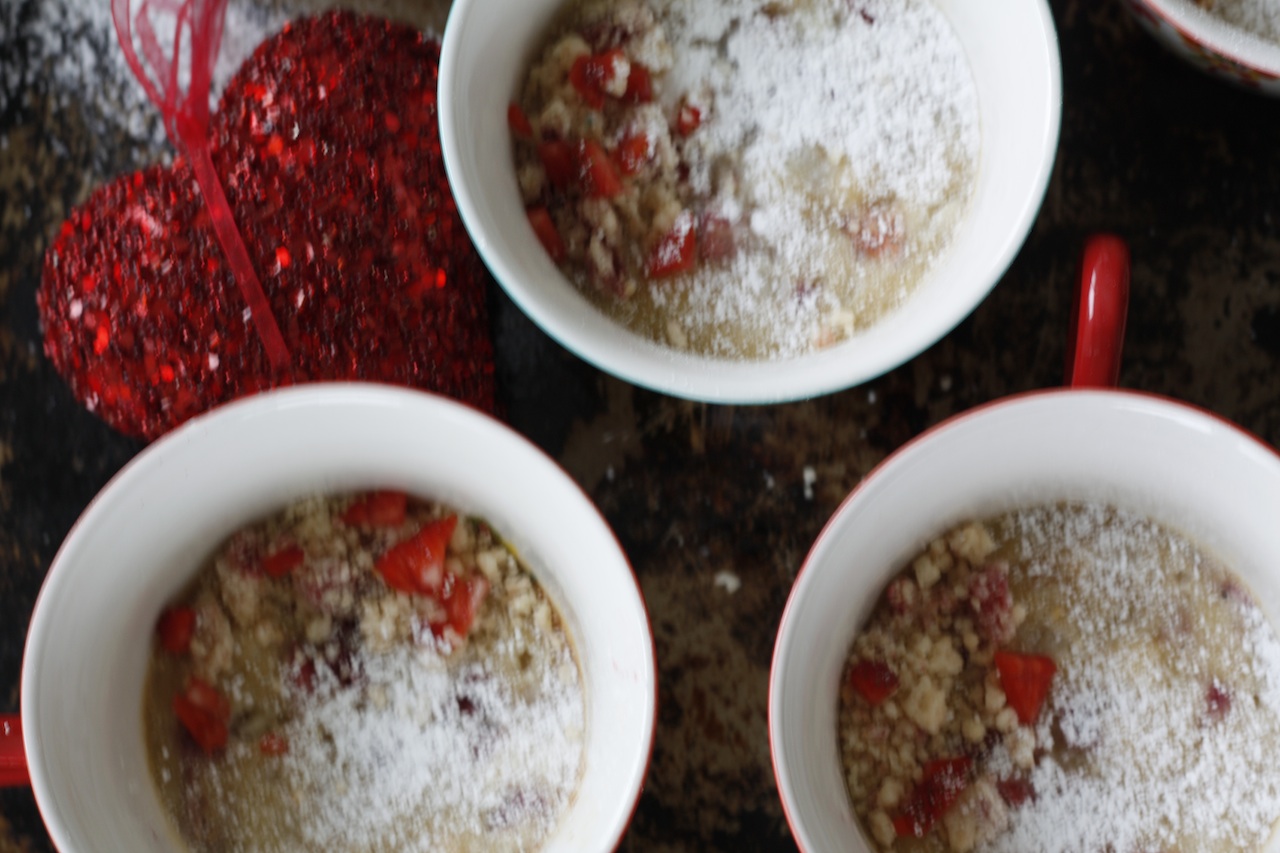 En Español
Existen 2 grandestipos de mujeres: Las que no toleran el día de San Valentín por considerarlo un día completamente comercial y aquellas mujeres románticas hasta la medula a quienes les fascina este día. Estas ultimas disfrutan de hacer regalos de todo tipo, desde dulces comprados, dulces caseros, flores, globos, cartas y muchas cosas mas. Esta mujer no para de imaginar ideas para confeccionar en forma de corazón.
A todas las personas que  por algún motivo están pasando por un momento de soledad, recuerden que este día no es el día de los enamorados. Es mas bien el día del amor y, por lo tanto, lo pueden compartir con cualquier otra persona que no sea vuestra pareja.
Aquí les traigo una receta facilísima de budín de fresas y chocolate blanco para que puedan preparar en su hogar sin stress. La preparación es tan sencilla que no podrás poner muchas
excusas para no prepararlo. La puedes montar directamente en tazas o budineras individuales aptas para llevar al horno. De esta forma ni siquiera tendrás que preocuparte por como desmoldar el postre.
¡Disfrútalo!

Ingredientes:
2 tazas de pan blanco
3 claras
3 yemas
325 ml de leche entera
50 ml de crema
25 grs de queso crema
125 grs de fresas
100 grs de chocolate blanco
125 grs de azúcar blanca
1 cucharadita de esencia de vainilla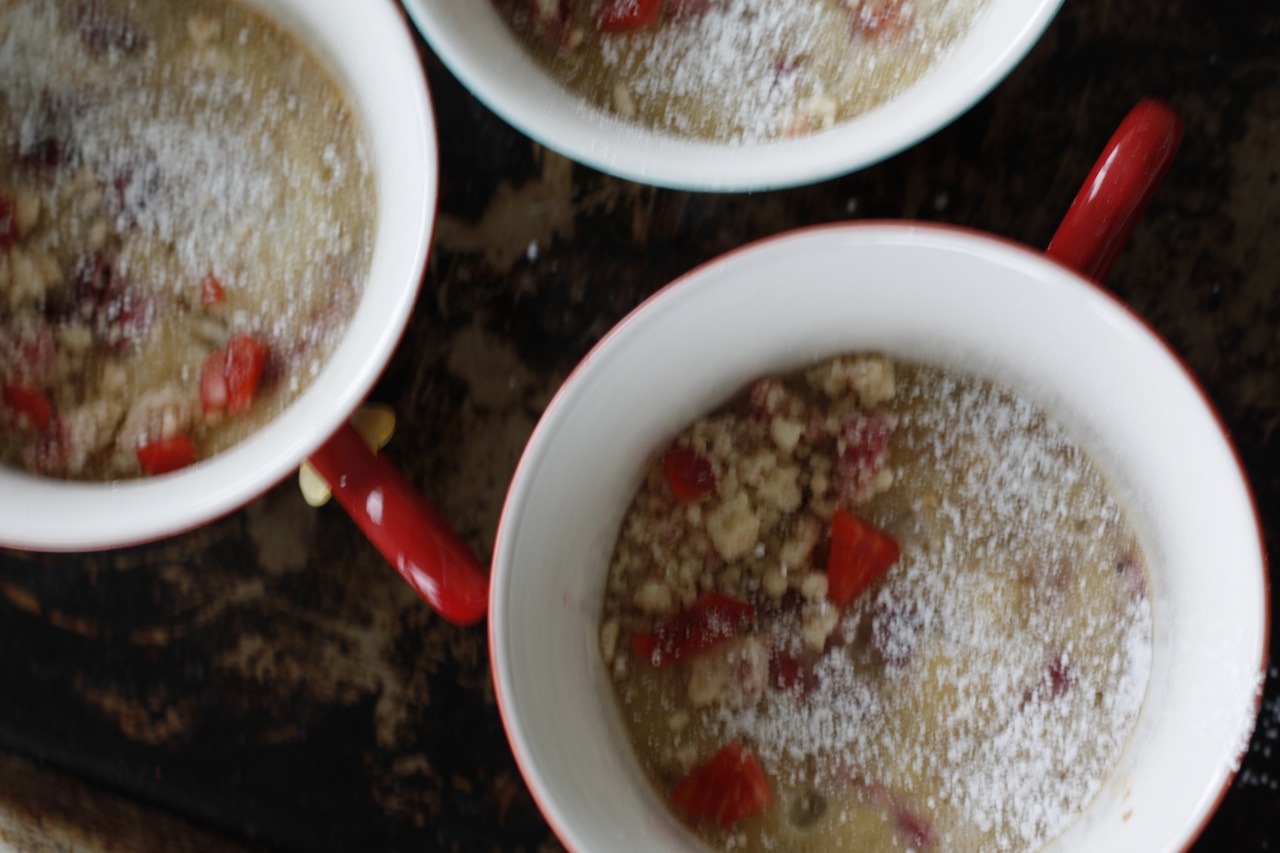 Decoración
35 grs de manteca
35 grs de azúcar blanca
50 grs de harina
25 grs de galletas Maria Iberia
3 o 4 fresas
Budín
1. Bate las claras a nieve
2. Pica el chocolate blanco y las fresas
3. Coloca las migas de pan con la leche, crema y queso crema
4. Mezcla el azúcar, las yemas hasta formar una crema
5. Añade al punto 4 la esencia de vainilla y la leche
6. Añade el chocolate picado y las fresas
7. Añade por ultimo las claras a nieve lentamente
8. Coloca la mezcla en la tazas o moldecitos individuales
9. Ponlo en el horno a 350˚ F por 1 hora, o hasta que el postre tome consistencia
10. Deja enfriar y coloca en el refrigerador
Decoracion de budines
1.Pica las fresas
2. Tritura el resto de los ingredientes en la multiprocesadora
3.Coloca la fresas picadas y la preparación del punto 2  al horno  a una temperatura baja hasta que comienza a dorarse
Disclaimer: I received a complimentary Iberia Maria cookies. This post is sponsored by Iberia